For Your Health & Safety
Our COVID Task Force Committee
has set a MASK REQUIREMENT policy
for ALL concerts & has implemented
a Social Distancing Seating Chart
OUR MISSION
Mission:
The mission of Fergus Falls Center for the Arts, Inc. is to connect artists, patrons and community by providing the best possible arts experiences that inspire creativity, curiosity, imagination, and learning.
Vision:
We strive to be a regional pillar for the arts with an ever-expanding audience, offering a broad range of arts experiences and opportunities for engagement and growth.
Fergus Falls Center for the Arts, Inc. upholds these core values:
Artistry – We cherish, respect, and celebrate the Arts.
Diversity – Our organization values sharing a variety of arts from multiple backgrounds and traditions.
Inclusion – We welcome and invite participation and engagement in our organization.
Education – We believe in lifelong learning experiences for patrons and artists of all ages and abilities.
Longevity – Our organization is committed to maintaining a presence in our regional community through management and fiscal responsibility, made possible in part by generous community support.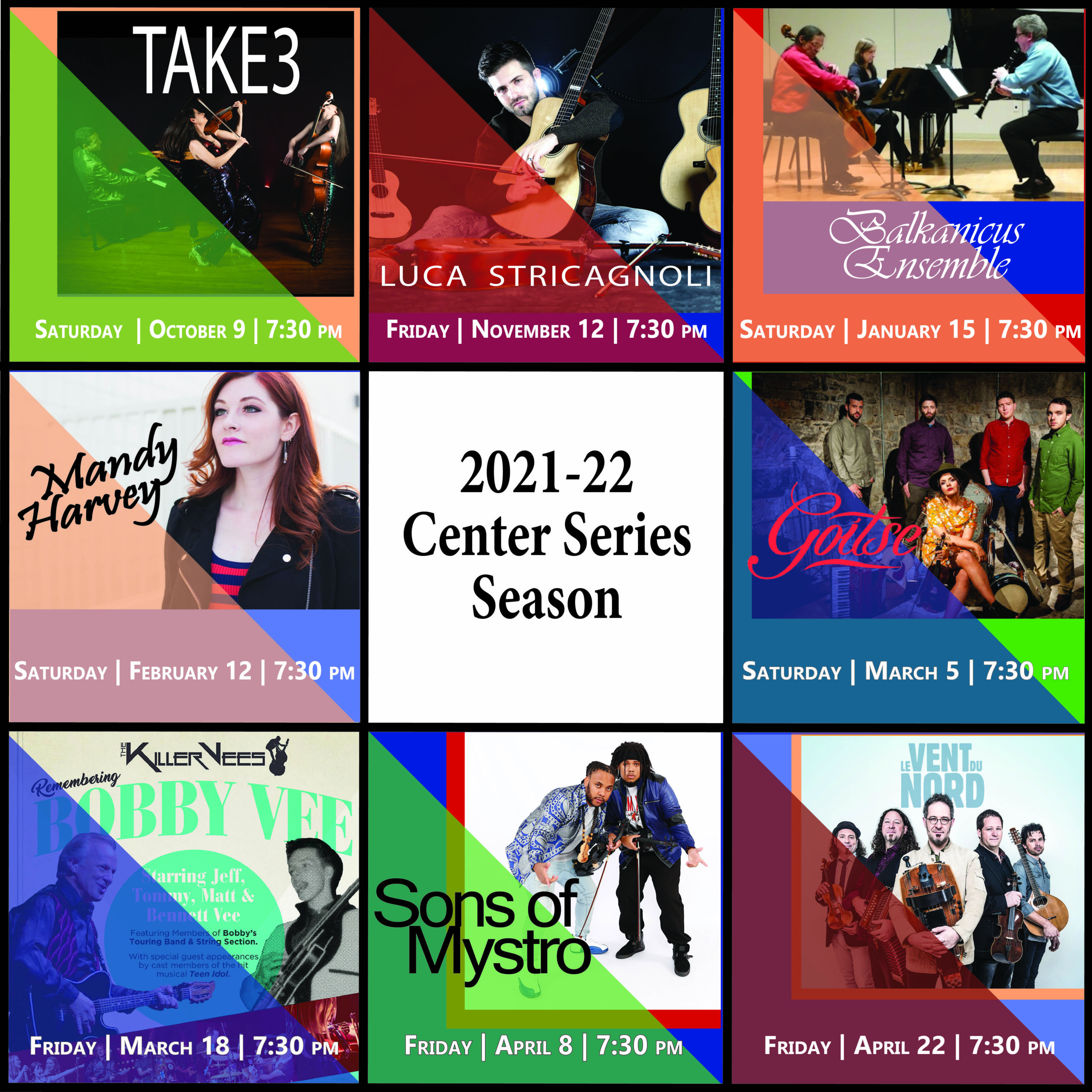 Announcing our 2021-22 Center Series Season!
* At this time, for your health & safety, we are requiring masks at all performances. We have also implemented a Social Distancing Seating Chart putting one empty seat on either side of your group.
Are You Interested in Volunteering at AC4TA?
Ushers, Box Office staff, Concessions, as well as many behind the scene positions… There are many ways you can help the center!
If you are interested, please give us at call at (218) 736-5453 or email us at info@fergusarts.org. We look forward to hearing from you.
You can also use our Contact page to send us an email.
Sign Up to receive our Emails
Keep up to date and in the know about all the happenings here at A Center for the Arts by signing up for our emails. You'll get up to the minunte information about tickets, upcoming performances and events, membership, volunteer opportunities, classes, children's programming and the like.  We promise not to send a bunch of unwanted information or email you too often!
You can click the button below to register your email, it only takes a second, we promise! Or… you can also signup by texting AC4TA to 22828.
A Center For The Arts
124 W Lincoln Ave Fergus Falls, MN 56537